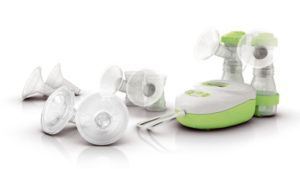 Warranty
Weight
AC Adapter
Battery Pwr
Car Adapter
400hr/1 year
 5 Lbs
Yes
Yes, 6 AA
 Yes
Bottle Types
Cycle Speeds
Suction Settings
Closed Sys.
Standard
 Adjustable
 Adjustable
Yes

What We Like
The Ardo Calypso Double Plus breast pump is one of our favorite pumps at Breast Pump Comparisons. The Calypso is identical to its sister the Calypso to Go  but it comes with a few less accessories and a bag. It's a Swiss made quality pump that is made to last and they back this claim up with an industry first 400 hour warranty which should last through two childbirths with normal use. The Calypso is the quietest breast pump on the market and whispers at just over 40 db making it ideal to pump discreetly at work or in the middle of the night. The kit resembles the Ameda kit and is easy to clean and prevents milk from backing into the tubing.
What We Dislike
The Ardo brand is relatively new to the US market and is difficult to find through insurance although Ardo has a DME finder on their website to help match mom with a supplier.
Bottom Line
If you can find an Ardo Calypso Double Plus breast pump through your insurance we recommend choosing this one as it's our hands down favorite. We wish it were more widely available and hope that within a few more years more retailers and DME's will carry it.