The Ameda Purely Yours breast pump is a personal use, electric breast pump that offers mom-friendly features and efficient pumping. Ameda Purely Yours breast pumps use the patented HygieniKit Milk Collection System, which has a silicone diaphragm designed to prevent milk from leaking into the pump's tubing. This saves clean up time since the tubes do not require washing after each use. All parts that come in contact with expressed milk are made of BPA free polypropylene plastic and the HygieniKit is the only milk collection system approved by the FDA to keep milk and outside air separate from each other.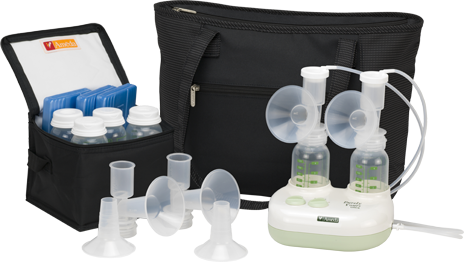 Discover Why Mom's Love Ameda Breast Pumps
What Other Moms Say
Want to view what others say about the Ameda Purely Yours breast pump?
How to Easily Get Your FREE Insurance Covered Pump
Why are free breast pumps so difficult to find? That's the question many moms have when trying to find the right pump for their baby. A short answer could be that many insurance suppliers simply don't understand the breastfeeding category. In 2012 with the passage of the Affordable Care Act, breastfeeding supplies effectively became a covered benefit under health insurance. This meant that medical supply companies (DME's) had to learn the business of breast pumps. While some welcomed this opportunity, others are just not interested in providing pumps to moms.
At Breast Pump Comparisons we hear from many moms about their experiences in obtaining a pump and we would like to share some pointers to make sure that you can get the best pump for your insurance benefit.
Now after reading the reviews of all the different insurance breast pumps available you are probably leaning to one of the major brands like Medela, Ameda, Ardo or Spectra. Finding a supplier that works with your insurance company and one that offers these top brands can be a bit frustrating but fear not because we have the ultimate breast pump cheat sheet for you.
In our findings we discovered that when it comes to breast pumps you want to work with the larger DME's. Some are listed below in no particular order.
These larger DME's work with most insurance companies but you still need to compare which pumps they will give out because some will give you a starter pump while others will give you the top of the line models. As a side note: many of the breast pump manufactures list which DME's will work with your particular insurance company. One of the Breast Pump Comparisons favorites the Ardo Breast Pump has a nice insurance breast pump lookup tool that helps to match you with a local supplier.
Another tip is to go directly to the manufacturer. Some manufactures, like Ameda, have direct relationships with the insurance companies. Often times you will be eligible for the top of the line pump when going directly to the manufacturer. Ameda is offering the Purely Yours Ultra to most of its plans a pump which can retail for over $300. You can verify which pump they provide to your insurance plan by visiting https://insured.amedadirect.com/get-started/ and selecting the state that you live in along with your insurance company.